Nanoil 100% Argan Oil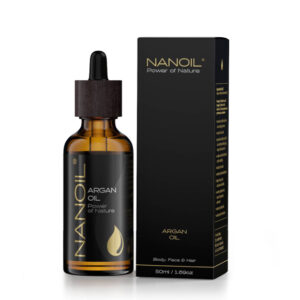 Capacity: 50ml
Cost-effectiveness: very high
Packaging: enchanting, glass vial
Applicator: precise dropper
Scent: subtle, natural smell of organic argan oil
Consistency: semi fluid, oily, amber-colour liquid absorbed quickly
Nanoil Argan Oil: purpose
Nanoil Argan Oil is intended for all hair types. It's best on thin, delicate, limp, volume-less hair, damaged ends, frizzy strands, excessively falling out and dull tresses, and hair which has become sensitized and lost condition due to incorrect care.
On the other hand, there are far more Nanoil Argan Oil benefits.
It doesn't work exclusively on hair: it enhances beauty of skin on the body and face, as well as conditions nails.
Nanoil Argan Oil: ingredients, effect
The trees, which Nanoil Argan Oil is extracted from, grow in clean environment and are listed among UNESCO Biosphere Reserves. Nanoil Argan Oil is organically pure, unrefined, cold pressed, no silicones, no parabens, no dehydrating alcohols.
It's the most popular, best-selling beauty oil in the world because the compounds that it contains actively stimulate energy flow in cells and take part in synthesis of collagen and elastin which are labelled the proteins of youth for skin. Argan oil is a natural strong antioxidant which has anti-ageing effect, moisturizes and repairs hair, leaving it soft and vital.
This unusual oil is extremely similar to the hair's keratin coat: it is a powerful reconstructor which forms a protective layer on hair surface and penetrates deeply, rebuilding strands from within. The biggest repairing and nourishing power can only be found in cold-pressed oil: that's the very feature that Nanoil can be proud of.
Nanoil Argan Oil has a unique proportion of EFAs (80% of the oil is made of unsaturated fatty acids). Moreover, it is a brilliant 'supplier' of vitamins which have the highest stability in oil phase. The oil contains approx. 100 skin and hair-enhancing active substances in total. You should also be aware that argan oil is one of the most intensively-working natural antioxidants. Apart from hair care, it is recommended for comprehensive skin care (and treating all kinds of skin conditions).
Argan Oil by Nanoil has a low bioburden (you can apply it even to irritated skin). Extracted through cold pressing, organic, not refined – thanks to that, every drop is the source of benefits that make Nanoil so much talked about. It is suitable for all skin types and almost every hair type.
Nanoil Argan Oil: application
This oil can be applied in a variety of ways:
to damp hair after washing (then, you must rinse it using shampoo)
to dry (or damp) hair before shampooing
after blow-dry routine (rub a few drops in hair ends, leave in)
add it to your conditioner (mix a few drops of oil with your hair product)
in form of oil-and-water spray (mix some herbal infusion or flower water with argan oil, spray onto dry or damp hair, leave in)
Nanoil Argan Oil: benefits
↗ organic, pure argan oil having the Ecocert label
↗ lightweight formula gliding through hair
↗ it doesn't leave hair limp
↗ it's all-purpose, treating hair, skin and nails
↗ it's cold pressed, unrefined
↗ it's suitable for use on scalp
↗ it blocks hair loss, stimulates faster growth, makes hair fuller-looking
↗ it boosts shine and leaves hair softer
↗ it lasts long, has an attractive price
↗ it has a lovely design
Nanoil Argan Oil: downsides
↘ the glass applicator might break
↘ not everyone will like the natural oil's scent
↘ it's unavailable at brick-and-mortar stores
Wanna get more info? Go to nanoil.co.uk/argan-oil