Ultimate Guide: How to Care for Bleached Hair?
Posted in
Uncategorized
•
2 years ago
• Written by
admin
•
Comments Off

on Ultimate Guide: How to Care for Bleached Hair?
Hair bleaching is extremely popular but it does entail damage, loss of bounciness and extreme dryness, and therefore bleached hair requires special care.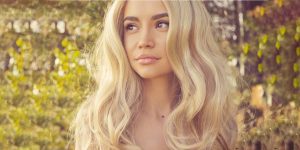 Bleaching: does it cause hair damage?
If bleaching is done properly and the scalp receives enough conditioning, then the risk of hair damage is much lower.
Bleached hair care
Holding moisture inside the hair should be your top goal. Deprived of water, bleached hair easily loses shine and goes damaged. Lots of things depend on the type of used bleaching agent. To keep strands healthy, the proper daily hair care is a must, of course you can't skin the scalp! Avoid some aggressive cleansing agents and go for plant-based products. If your scalp tends to be very dry or flaky, use only alcohol-free products without irritants. Also, it's great if you use hydrating hair oils and plant extracts like panthenol or aloe.
If you're struggling with oily scalp, you might think you need some harsh detergents but it's just the opposite! SLS or clarifying shampoos should be used once a week tops. Oily hair doesn't like heat so try to cut down on hot tools. Choose masks and conditioners featuring hydrating ingredients like cosmetic clay or herbs. Bleached hair doesn't like cold weather either so always wear a hat in the winter.
Hair oil treatment
This is one of the most popular and oldest treatments to keep the hair healthy. There are plenty of ways for applying hair oils and as many different oils. Ideally, use unrefined, pure oils that are extracted through cold pressing so they can provide your hair with a full set of nutrients, vitamins and minerals. The best oils are free from any synthetic substances.
How to hydrate bleached hair?
Use mild kids shampoo and mask rich in proteins like collagen, keratin or silk. Leave it in your hair and rinse after half an hour. Get some products featuring humectants (hydrating substances). Emollients – oils and waxes – are essential too. Keep the hair ends moisturized using oils, mists or liquid silk.
What foods to eat to keep hair stunning?
Your hair will be grateful if you include omega acids and lipids in your diet (e.g. vegetable oils, fish, nuts). You should also drink nettle teas since they give you lots of vitamins and help the body detoxify. Dry, bleached hair needs iron-rich products like eggs or liver.
How to hydrate bleached hair at home?
Washing hair with conditioner, aka no-poo or co-washing, is a perfect way to make hair strong and luminous and a trusted method for repairing damaged strands. You must also secure the hair color against the UV damage. Get regular trims and use a hydrating serum.
Bleached hair needs repair and correct care to look lovely. Always choose good products dedicated to this type of hair.