NANOIL HAIR OIL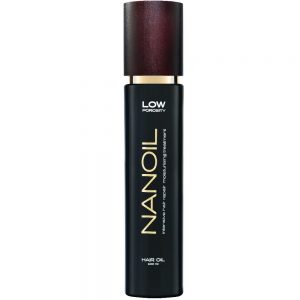 Capacity: 100 ml
Efficiency: very efficient
Design: a glass bottle, charming with elegance, modern, perfect for storing sensitive to light natural oils
Applicator: a failure-free and precise pump
Fragrance: delicate and pleasant
Consistency: semiliquid, ideal for applying
Nanoil Hair Oil – Purpose
Nanoil hair oil is a product that faces each hair kind and each hair porosity type. Regardless of the hair being damaged and dry, whether it's thick and heavy, Nanoil hair oil is able to provide professional care to all three levels of porosity. For that reason, the oil is available in three versions, each of them being responsible for treating different hair type.
This guarantees the out of the ordinary efficiency of the oil that delivers the very substances hair needs to grow healthy and look beautiful.
Nanoil Hair Oil – Composition & Action
Each of three Nanoil versions is characterised by a different blend of natural oils. The reason why the oil is divided into three various products is to make the oils' molecules fit the hair structure ideally. Thanks to this, Nanoil takes care of thick and stiff hair of low porosity by increasing the strand's volume and softness as equally effective as it takes care of high porosity hair that requires strong regeneration and moisturising. Nanoil also conditions the scalp and accelerates hair growth by stopping, at the same time, excessive hair loss.
Nanoil is an exceptional product which offers the unlimited forms of application. With the use of Nanoil, you can perform full oil hair treatment, including the scalp, or you can apply it only to the mid-length only, to wet or dry strands, in the form of a delicate, leave-in conditioner. Moreover, Nanoil can also replace a heat protection lotion and a spray of hair conditioning action. It can be applied a few times throughout a day, always when you feel that your hair needs an extra portion of nourishment.
Nanoil Hair Oil – Advantages
↗ regenerates hair from the outside, the inside, as it reinforces the hair bulbs
↗ accelerates hair growth and makes hair thicker
↗ prevents hair loss
↗ takes care of the scalp
↗ immediately improves the looks of hair
↗ doesn't contain any parabens nor silicones
↗ can be applied directly to the scalp
↗ has a beautiful fragrance and even a more beautiful package
Nanoil Hair Oil – Disadvantages
↘ you have to know your hair porosity type to choose the most appropriate version of the oil
more on website nanoil.co.uk